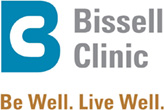 Now Hiring Physical Therapists
For outpatient multi-disciplinary clinic
We are a busy out-patient physical therapy clinic located in Santa Barbara, CA and are looking to grow our team of passionate physical therapists. At Bissell Clinic, we are looking for both full-time and part-time therapists to accommodate our ever increasing patient demand. Our therapists work one-on-one with patients for 45 minutes in a private, spacious therapy room to deliver the personalized care and attention that each patient needs to achieve their therapy goals.
Most of our physical therapy patients are referred by local orthopedic specialists or primary care physicians and present with a wide range of post-surgical, degenerative, neurological and sports related conditions. Our PT's are completely independent from other providers within our clinic regarding their patient load, billing & treatment plans. Our "gym" has vaulted ceilings, mirrored walls, and large windows with a view of the plaza center garden; you will have access to all equipment needed by physical therapists, including a Pilates reformer, to provide treatment for conditions head to toe.
Additional smaller rooms are available for consults and for treatments requiring additional privacy.
Applicant must have a degree in Physical Therapy, active malpractice insurance and a valid California PT License. We are open Monday through Friday from 8 a.m. to 5 p.m.
Flexible schedules
Full-time benefits available for employees working 36+ hours weekly
Full-time benefits include health insurance, sick, vacation and holiday pay and stipend for continuing education.
Additional time off during Thanksgiving, Christmas, New Year's Eve, and Fiesta.
Competitive wage-DOE
Contact Us Today
If you are looking for an opportunity to join a growing practice in a beautiful setting and desire a job that offers creativity, autonomy and a caring, family style environment, we invite you to submit your resume today!
Submit resumes to Emely: emely@bissellclinic.com
Phone: 805-565-5252
Fax: 805-565-5250

Bissell Clinic Jobs | (805) 565-5252