Your First Visit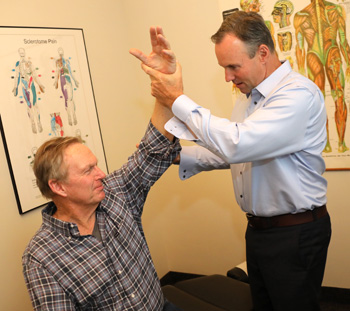 New patients often remark how welcoming our office is. That's good, because our goal is to offer state-of-the-art chiropractic and physical therapy care in a comfortable surrounding.
Michelle, our office manager, will warmly greet you upon arrival. If you've already completed the necessary information, great! If not after doing so you will meet with Dr. Charles Bissell or one of our fantastic physical therapists.
We Explain Everything First
The purpose of your consultation with the doctor is to discuss your health goals and see if chiropractic and/or physical therapy is likely to help you. If it looks promising, a thorough examination will help identify the cause of your problem.
Examination and Treatment
After we study your health history and perform the examination, we'll make recommendations specifically for you and your condition. Most of the time patients also receive a treatment during their first visit, however, in certain situations, and in the professional judgment of our providers, we may refer you for diagnostic testing, such as an x-ray or MRI, before treating you. It just depends on your unique situation.
Most initial examinations and treatments last a little over one hour as we strive to give you as much as we can during your first appointment. Your time and money are important considerations for us and our goal is to get you better in the least amount of visits possible. Before you leave, we will make sure that your questions have been answered, you have been given an accurate diagnosis, excellent care, and good home care instructions.
Contact us to schedule an appointment!
---
Bissell Clinic | (805) 565-5252